Wilson K-Factor Serena Blade 104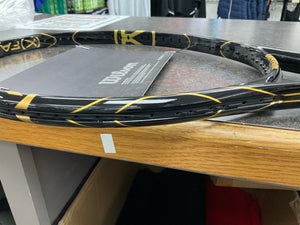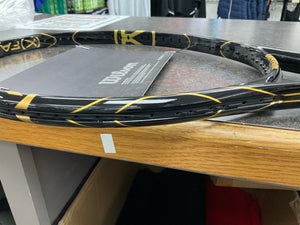 Wilson K-Factor Serena Blade 104
New 2007 special edition SERENA Williams BLACK kfactor gold tennis. Venus used the White version of this model to win the Womens Singles Championship and, with sister Serena. The Ladies Doubles Championship at Wimbledon in 2007. Racket is new and unused.
With ten titles between them in the last nine years, will be playing for the first time with brand new [K] Factor gold limited edition rackets at next week's Championships. Both Williams sisters switched to [K]Factor technology at the beginning of the 2007 season to great success. After Serena's incredible ascent back into the top 10 from a low of #81 and capturing the Australian Open Championship, and Venus winning her first title after a long return from injury, their racket prototypes are now finalized. In honor of these achievements.
Wilson created two special edition rackets featuring 22 [K]arat gold. Serena played with a pure black racket and Venus with a pure white version- both featuring real 22 carat gold leaf laid into the frame.
There were only 100 copies of this racket made for sale. This racket is number 38 out of those 100. Making it an extremely rare racket to get a hold of.
This racket is a 4 3/8